Tips to avoid burglary in December
Home burglary more likely over Christmas period
As we approach the heart of the festive season, don't let your let your Christmas be ruined by a home burglary. With presents under the tree and visits to family and friends, Christmas is a time where you are most vulnerable to a burglary in your home. UKCrimeStats back this up with December and January recording significantly high numbers of burglaries each year. But fear not, we are here to give you some tips to help you keep your home safe.
Top Tips
Keep all doors and windows shut.
Do not leave keys hidden outside.
Leave presents hidden from outside view.
Put lights on timers and leave radio/TV on when out.
Ask neighbours to check your house when you are away.
Do not post on social media that you are going away.
Ensure there is no open entrance to your home
As obvious as it might sound, make sure you check that you have shut and locked all windows and doors before leaving the house. Even a window left just slightly open will present burglars with the opportunity to make their Christmas. When putting up your outdoor Christmas lights up, avoid feeding cables through slightly open windows. Where possible, connect them to an outside socket.
It is also important that you do not leave keys in locks, as burglars may be able to find a way to reach them, i.e., through a letterbox.
Do not leave valuables or Christmas gifts out in sight
When you are off out this Christmas, be sure to avoid leaving your exciting new presents and other valuables out in view of windows. Leaving presents in your car unattended and on display will also increase the risk of burglary.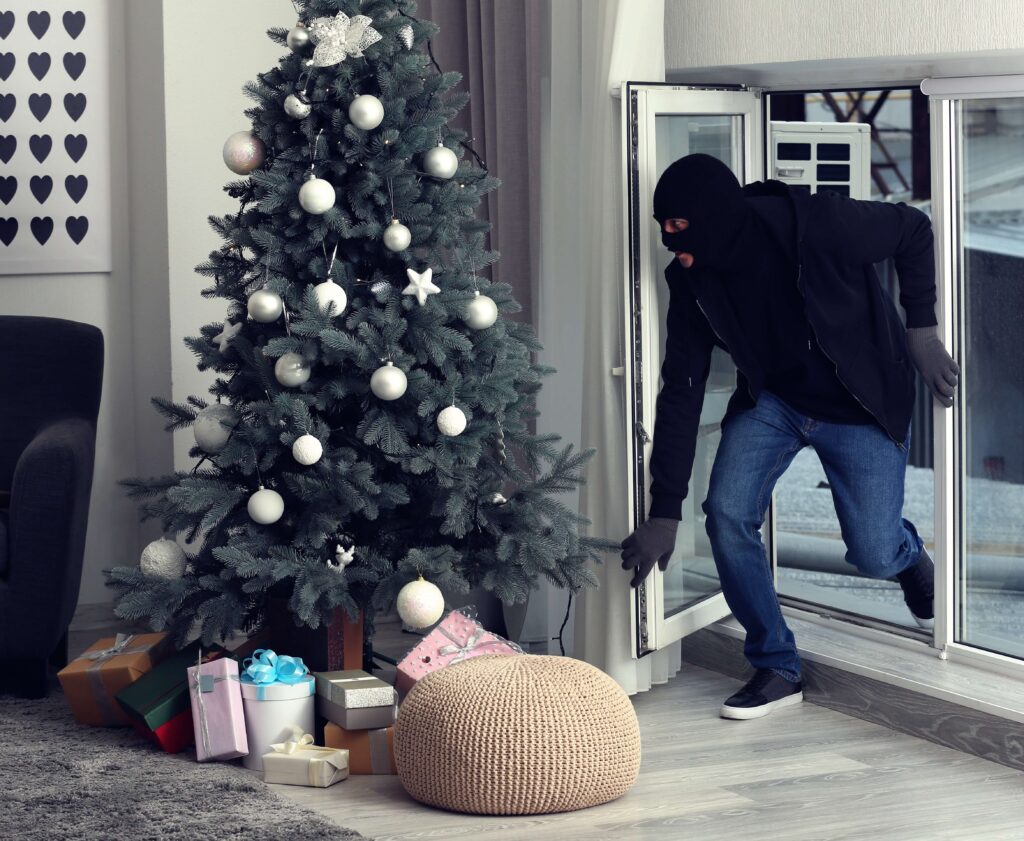 Make it look like someone is home
Making it look like someone is home is a good trick to repel burglars away from your property. You could do this by having indoor lights set on a timer or leaving the TV or radio on to create the noise that someone is in. Motion lights are ideal for this scenario as they turn on and bring extra attention to any potential intruders.
If you are staying away from home for a few nights this Christmas, it may be best to ask a neighbour to help by leaving a car on your drive and putting the bins in and out, as well as regularly checking on your home. In addition to this, it is important to check the weather to see if there is any Christmas snow on the horizon, as snow on and around your front door will indicate that you are away.
One thing you should always avoid doing Christmas or not, is sharing on social media when you are going away. Whether this is for a holiday or just for a night out, it's important to wait until you are home before posting online and not to make important information public. It is easy for someone with the right knowledge and information to identify someone and locate an address.
Home burglary Insurance claims
The last thing anyone wants for Christmas is to be going through the devastation of having your home burgled. You should be spending your time with family and friends, not investing it in dealing with the stress of managing an Insurance claim. That's why Oakleafe claims are here to take control of the situation and look after your interests.
When you make a domestic burglary claim, Insurers' Loss Adjuster will look for ways to refuse your claim by interrogating you. You do not want to attempt this battle without any representation on your side. Oakleafe is on your side as the only party who is there to look after your interests fully, negotiating settlements with the Loss Adjuster to get what you're entitled to. Our experienced Loss Assessors offer unparalleled assistance in household theft claims and will make a real difference in the settlement you receive.
Let us handle the stress and complications of negotiating your household burglary claim and leave you to concentrate on your family this Christmas.
Click here for more information or call us today.