Oakleafe Claims are delighted to have recently become official partners of Hanley Town Football Club. With our Midlands office based in Stoke-on-Trent, Staffordshire, Hanley Town are the local team and so joining forces feels like a natural fit. Oakleafe Claims are proud to support local organisations and have always enjoyed being involved in nearby communities. Hanley Town are a fantastic club, and we look forward to seeing more success both on and off the pitch!
The partnership is a boost for both Oakleafe and Hanley Town, and will help us support more people in the local area when they are in need of making an insurance claim. As an official partner, Oakleafe are this seasons sponsor of the official highlights package, as well as featuring in the matchday programmes and on an advertising board at the ground. With our director Lee Goodwin's background in football, we are delighted to contribute to an organisation part of the game we love and come together to help raise levels of both operations.
Oakleafe Claims Midlands manager Grant Williams visited Payaro Stadium and was welcomed by first team manager and former Premier League footballer Ryan Shotton.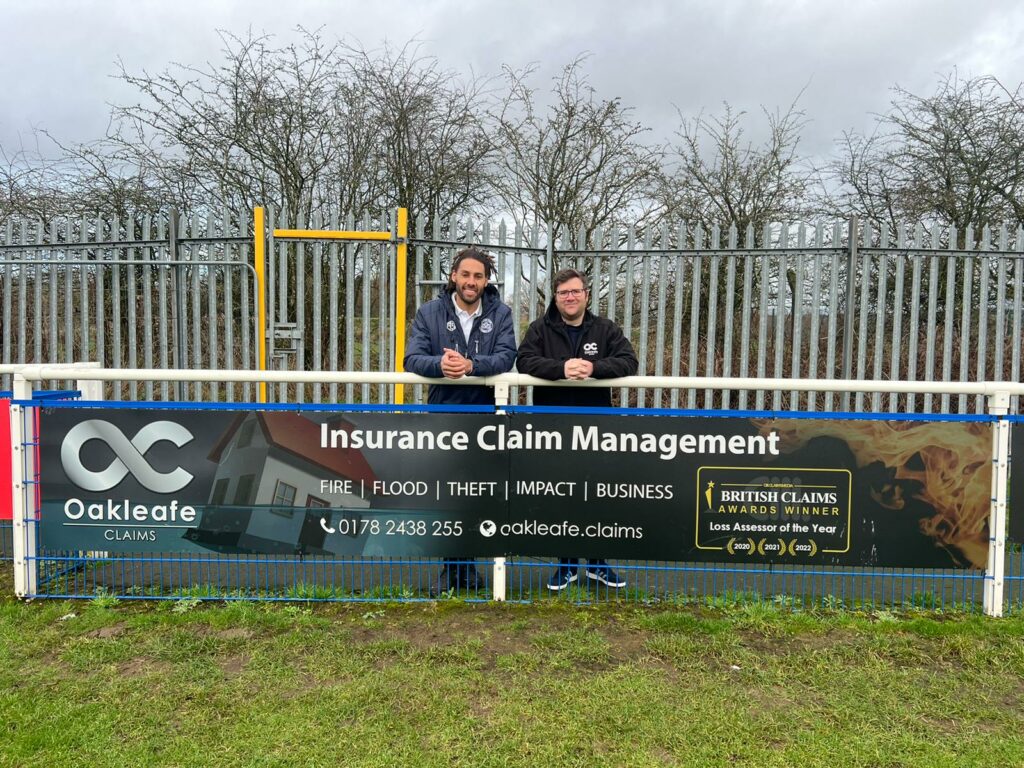 Manager Ryan Shotton said "Since I have been involved in non-league it makes you more aware of how clubs strive to operate, without fantastic companies like Oakleafe this would not be possible, we try to represent the club but also all of our sponsors on and off the pitch".
Hanley Town Chairman Ron commented " Building long lasting partnerships is key for a football club to survive. From our first meeting with Oakleafe we knew this was a perfect partnership, a company like us based at the heart of our community".
About Hanley Town FC
Hanley Town were officially founded in 1966 (although the clubs roots go back to 1882) by a group of friends who would just play friendly matches on a Sunday before entering a Saturday league as Hanley Town. They currently compete in the Northern Premier League Division One West after being crowned champions of the Midland League Premier Division in the 2021-2022 season. With home matches at Payaro Stadium, Hanley Town has become a great venue for locals to visit and enjoy some entertaining action.
About Oakleafe Claims
Oakleafe Claims are the number one Loss Assessing company in the UK, and have been helping homes and businesses deal with insurance claims since the first World War. Over the generations, Oakleafe have built up a strong reputation and extensive knowledge in handling claims of all sizes, and being the first port of call when things go wrong. We pride ourselves on delivering the best results for our clients and helping those in the community when they need it most.
Oakleafe Claims wish Hanley Town the best for the season and look forward to seeing them in action again at Payaro Stadium.
Follow Hanley Town on Twitter
Click here to check out Hanley Town on Twitter and follow them for the latest news, updates and scores.