Storms and storm damage insurance claims becoming increasingly more common in the UK. Storm damage claims have more than doubled in value over the last 5 years and will continue to become more widespread and more costly.
It is important that you know how to prepare your property for a storm, how to keep safe during a storm, and what you should do if you have to make a claim following damage. So, if a storm warning is placed in your area, this blog will have you covered.
How do insurance companies define a storm?
Whilst the dictionary definition of a storm is simply 'a violent disturbance of the atmosphere, with rain, snow or thunder', insurance companies will have a very different meaning of a storm. What is classed as a storm will depend on who your insurer is, however on average the criteria is:
A minimum of 50mph winds with;
Rainfall of 25mm per hour.
Check your policy for storm terms and conditions
Some insurer's may not have a definition of a storm, in which case they will likely refer back to the dictionary definition or the financial ombudsman's definition, which is 'high winds accompanied by rainfall'. It is important that you check the wording on your policy and look at the finer terms and conditions.
How to prepare for a storm in the UK
If you are in an area that is going to be affected by a storm, it is key you do what you can to prepare and reduce the risk of damage. Be sure to check the Met Office for what storm warnings are in place for your area, and the advice they give for those impacted.
Here are our tips to prepare your home for a storm:
Secure loose objects, garden furniture and items that could be blown into and break windows.
Close and securely fasten doors and windows – particularly those on the windward side of the house (including garage doors).
Park vehicles in a garage (if you have one), otherwise keep them clear of buildings, trees, walls, and fences.
Close and secure loft trapdoors with bolts.
If you have storm shutters over your windows, then ensure that these are closed and fastened.
If your chimney stacks are tall and in poor condition, move beds away from areas directly below them.
From an insurance point of view, there are some key things that should always do to keep your home in good condition to help reduce the risk of severe damage if a storm was to occur. Our advice is to:
Make sure you roof is maintained – ensure there's no slit tiles.
Keep your guttering clear from any debris.
Ensure all fences, gates and walls on your property are maintained.
Fences, gates, and walls not covered by home insurance
Insurance policies do not cover any damage caused by storm to fences, gates, or walls. Therefore, we recommend that you make sure that they're all in good working order, and that your gates are locked and secure – stopping them from flinging about and breaking in the wind.
What should you do during and after a storm?
During the storm
Stay indoors as much as possible.
Keep away from the sheltered side of boundary walls and fences as if they will collapse on this side if the structures fail.
Refrain from going outside to repair damage while the storm is still active.
If you have to go out, leave and enter your home through doors on the sheltered side.
Open doors inside only when you have to, and always close them behind you.
Do not drive unless your journey is completely necessary.
After the storm
Try not to touch any electrical or telephone cables that have been blown down during the storm.
Avoid walking too close to walls, buildings, and trees, as they could have been weakened and be at risk of falling.
Be sure to check on vulnerable neighbours or relatives to ensure they are safe and help them organise repairs if necessary.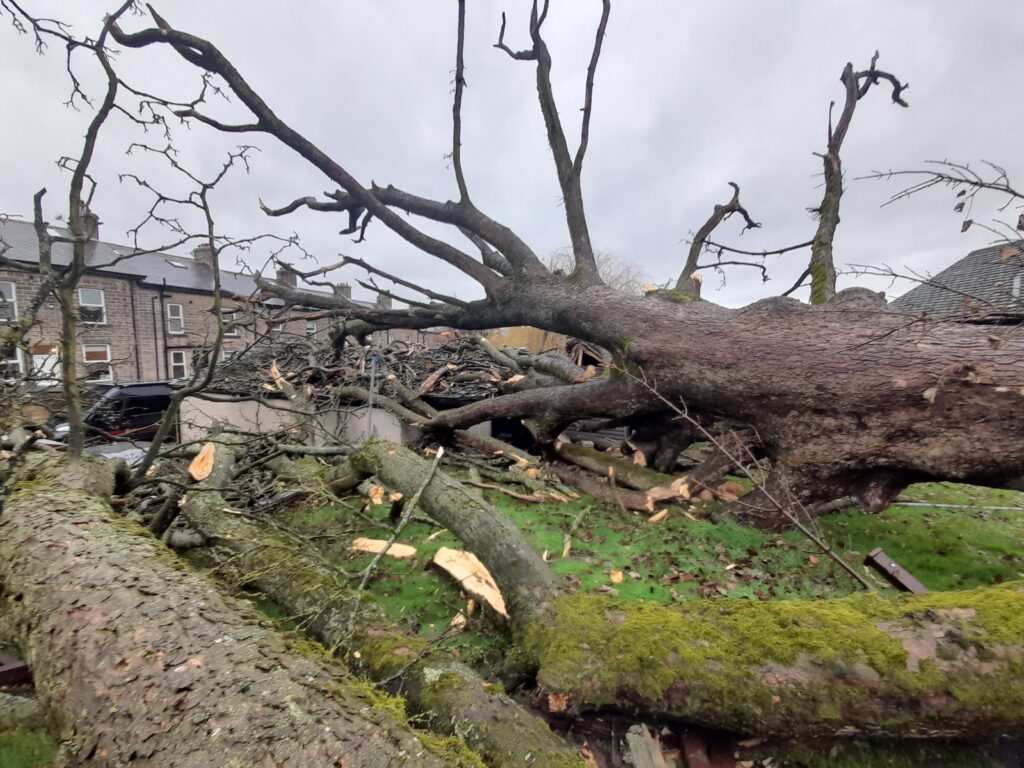 Advice on making a storm damage insurance claim
If you ever are a victim of property damage following a storm, there are important tips you should follow once you establish that the area is safe:
Storm Claim Tip 1: Take as many pictures as possible
In the event of damage to your home or business, it is imperative that you take as many photos of the damage as you can. You can never have too many and the more you have the more help it will be for getting your claim handled quickly. You should also make sure to keep hold of any receipts or out of pocket expenses that you may have stored.
Storm Claim Tip 2: Mitigate and secure your property
Mitigation is a very commonly used word in the insurance industry. In simple terms, mitigation is stopping any further damage to your property. For example this could be by securing your roof temporary repairs, or removing carpet to stop any secondary damage within the property.
Importantly, mitigation is the responsibility of you, the policyholder. Insurance companies say that you must act as if you are not insured and mitigate the loss following storm damage to your property.
Storm Claim Tip 3: Notify your insurance company ASAP and call Oakleafe
The sooner you inform your insurers of the storm damage, the sooner the process of getting your property repaired and back to its best begins. Once you have done that it is recommended you call a loss assessor such as Oakleafe Claims to get the expert help and advice on your claim.
Oakleafe will minimise your stress and workload by handling all the stages for you including meetings, investigations and will arrange alternative accommodation if necessary. We are available 365 days a year, so will always be on hand should the worst happen to you during a storm. Storm damage claims are particularly challenging and so it is important you get someone onboard at an early stage to ensure you get what you deserve from your insurers.