What does a Loss Adjuster do?
The term Loss Adjuster will likely be alien to you if you have never had to make an Insurance claim. When you make a claim, you will likely encounter a Loss Adjuster. The more complicated and costly your claim, the more likely you are to communicate with a Loss Adjuster to reach a satisfactory settlement.
The Insurance claim process is often challenging and stressful, therefore it is important to know:
What a Loss Adjuster is
What a Loss Adjuster does
What a Loss Adjuster looks for
Whether you can hire a Loss Adjuster
The difference between a Loss Adjuster and a Loss Assessor
What is a Loss Adjuster?
A Loss Adjuster is an independent assessor of Insurance claims. Loss Adjuster's work for themselves but can be hired by Insurance companies or policyholders to work on their respective behalf. In most cases, a Loss Adjuster will be appointed by an Insurance company and sent out to the site of claim, this could be a fire or flood in a home or business for example. Their role is to assess, evaluate and report on the Insurance claim as a third party.
A Loss Adjuster will provide professional knowledge on the extent of damage, and the cost of reinstating property. All the relevant information is gathered by the Loss Adjuster, which they will use to compile a report, along with their professional opinion about who is liable for the cost of loss or damage. Their conclusions inform the settlement offered by those they represent. This is significant, as this means a Loss Adjuster's assessment guides not only if a settlement is offered, but how much.
What does a Loss Adjuster do?
What a Loss Adjuster does will vary slightly, depending on which party of the claim they work for.  Most often a Loss Adjuster's job is to investigate significant Insurance claims on behalf of the Insurance company. They play a key role in the claims process and will often be the first person you come into contract with from the Insurance company once the claim has been recorded.
A Loss Adjuster will ask many questions about the circumstances surrounding your claim and gather the evidence needed to establish the cause of the loss or damage. They will then produce a report to send to your Insurance company who will decide whether the claim is valid and decide the settlement offer, in accordance with your policy.
Can a Loss Adjuster reject your Insurance claim?
It is possible the Loss Adjuster will decide your policy does not cover your claim.  It's important to be aware, Loss Adjusters who work on behalf of Insurance companies tend to have a bias towards their employer. After all, their success depends on the satisfaction of their client, the Insurance company.  An Insurance company may ask their contracted Loss Adjuster to focus on ambiguous findings, misinformation, or look out for policy clauses that would remove their responsibility. These are the sort of Loss Adjuster tricks you need to be careful of.
Policyholders are not able to see the Loss Adjusters' report, however you are entitled to ask what conclusions were reached by the Loss Adjuster, and why. You may also ask which parts of your policy determined the decisions. If you do not agree with the final settlement and reasonings, you have the right to argue against their conclusions. By understanding your policy terms, and the reasoning behind the settlement decision, you can successfully counter their argument.
What does a Loss Adjuster look for?
A Loss Adjuster will investigate:
The cause of the incident
The value of the loss or damage
If the Insurance policy is current and covers the extent of the loss
If all terms and conditions of the Insurance policy have been met
If the value being claimed for is correct
Whilst at your property, the Loss Adjuster will likely take photographs of damage that is visible to support their findings and may also advise on help mitigate any further losses by advising measures for safety and security.
Can I hire a Loss Adjuster?
A Loss Adjuster can be hired to represent your claim. Loss Adjusters can be an asset since they have plenty of expert knowledge regarding Insurance claim processes, assessments, and settlements. Their knowledge and experience handling both sides of a claim would be beneficial to you.
However, Loss Adjusters are less likely to work for policyholders, and may not be the best person to represent you. They may be less inclined to work for policyholders since their reputation with Insurance companies could be adversely affected by their involvement with policyholders.  Independent Loss Adjusters are more likely to work for Insurance companies who provide them with a competitive and reliable income, compared to policyholders.
Instead, a Loss Assessor would be better for overseeing a difficult Insurance claim. Loss Assessors, such as Oakleafe Claims, offer a different service, level of knowledge, and expertise than Loss Adjusters. Loss Adjusters and Loss Assessors are easily confused. Understanding what each can offer is valuable when seeking support and assistance for your claim.
What is the difference between a Loss Adjuster and a Loss Assessor?
Loss Adjusters and Loss Assessors are often confused by many people, but there is a fundamental difference between them:
Loss Adjusters are private contractors appointed by the Insurance company to investigate the Insurance claim and report back to them.
Loss Assessors are private contractors appointed by you, the policyholder to protect your interests in an Insurance claim.
The image below summarises the key differences between Loss Adjusters and Loss Assessors.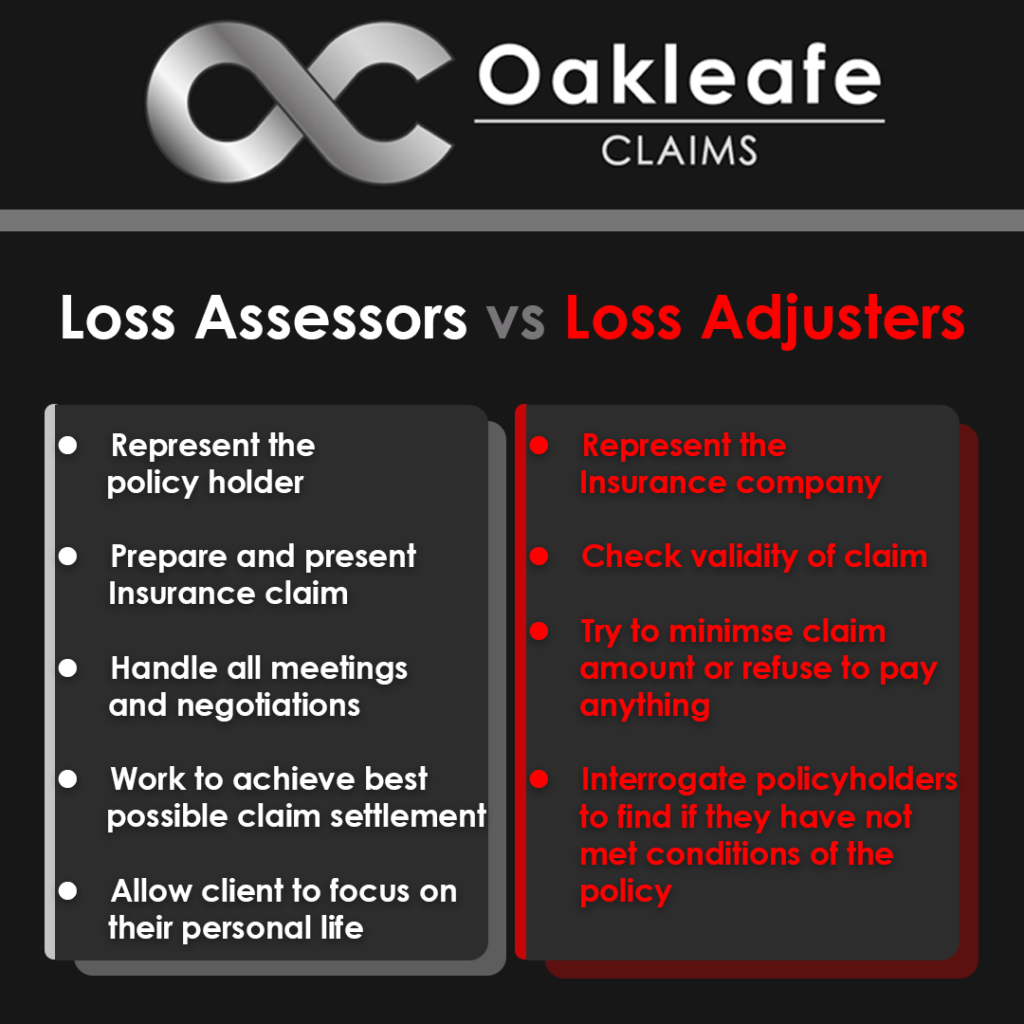 A Loss Adjuster has knowledge and experience about Insurance claims, in particular; damage assessment, policy terms and settlements. They provide assessments and reports to assist the Insurance company with the settlement process and decision.
A Loss Assessor, such as Oakleafe, work solely on behalf of policyholders and have expert knowledge and skills on settling a claim in a fair and efficient manner. They specialise in managing the claim and communicating with all parties involved. A Loss Assessor will offer support, advice, and guidance through a stressful period in your life. Their only purpose is to assist policyholders with their Insurance claims as they have no affiliation with the Insurance company, unlike a Loss Adjuster.
For an unbiased, assured, and expert guide through your Insurance claim, contact Oakleafe Claims.  We fight for you and your right to a settlement that reinstates your property and gets your life back on track. Oakleafe Loss Assessors have professional skills to navigate difficult claims, handle uncooperative Insurance companies, Loss Adjusters and contractors, and understand all the small print of your policy. Loss Assessors can simply be the voice of reason and support your need at a difficult time or offer full management of your claim.